"We aim to be the first neighborhood where every child and the neighborhood are thriving
because, together as neighbors, we are following the lead of NEIGHBORKIDS."
That's the thinking behind the Sarasota Community Studio, opened in the Florida city's Central-Cocoanut neighborhood in early 2013 as a place for neighbors "to come together around the talents of neighborkids to invent powerful approaches to community change."
The place is relatively new, but the idea (and the kids) have been at work in the area for years.


Take their weekly summertime "scavenger hunts." Every summer since 2009, Central-Cocoanut neighborkids have gone out on weekly quests to explore some part of their 47-block home area and discover how they might strengthen their sense of belonging to the place and make stronger connections with and among their neighbors. Some people might call this "asset-mapping," but that wouldn't nearly capture how fun and fulfilling it is for the kids to explore their neighborhood, write up stories of their adventures and share them with the community.
"Our neighborhood scavenger hunting is all about following neighborkids' lead," say Sarasota Community Studio Co-Executive Directors Tim Dutton and Allison Pinto. "Kids are naturally inclined to make friends, tell stories and be curious, playful and exuberant — the very qualities that make for gifted neighborhood changemakers, community leaders and social innovators."
"Each week we set out on foot, scooter or bike, with our toys in tow, and explore another block in our neighborhood. We meet people who live or work here, find all sorts of fun ways and places to play and keep an eye out for fellow neighborkids.  We snap pics as we go and afterward we write up stories of our adventures, both to remember our discoveries and to share them with everybody else in our neighborhood and community.  We hope this will help us all to better tune in and recognize all that's going on around here these days, so that we can make the most of opportunities as they arise and also respond to upsetting stuff as it happens."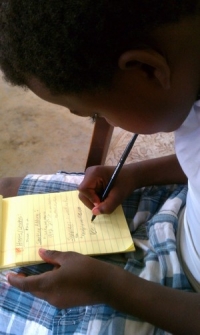 There's much more going on at the Studio, now and in the pipeline. The Studio was created by neighbors as a way for kids and adults to jointly create new approaches to community building, community information, talent development and information sharing. The kids already are community information-gathering veterans; last year they were featured in a Herald-Tribune article on data collection for community change. They also have learned a special approach for sharing what they know and love about their neighborhood by talking with neighbors and completing a list of 20 sentence stems.
Read (and adopt) the Studio's approach to sharing their feelings about their neighborhood in their blog post "Igniting Love for Our Neighborhood."
For lots more on what goes on at the Studio visit their website at http://sarasotacommunitystudio.org/
For a quick tour of the Studio's space, go to http://www.youtube.com/watch?v=kgFNxG8t0Og
Related: