As a continuation of our spotlight on the People's WPA by the US Department of Arts & Culture, the following are two stories of artists working within their communities to foster transformation toward a more caring, nourished, just and collaborative future: The Prisoner's Apothecary and SIPP Culture.
These two stories are shared under the heading of two categories for reflection and action that make up the structure of the People's WPA: "Regeneration," and "Healing." These categories ask:
What does rejuvenating our natural

systems and building true sustainability

look like?

How do we address long

standing inequality through climate and

environmental justice?

How do we promote a culture of care grounded in equity and access?

What does strengthening the well-being of ourselves and our communities look like?
Both projects depart from the habit of "doing for" others in our community whom we have been trained to see as needy or alienated in our communities, and step instead into collaborative, respectful relationships of "doing with," while also inviting in the rich abundance of talents and passions within one's community through diverse collaborations.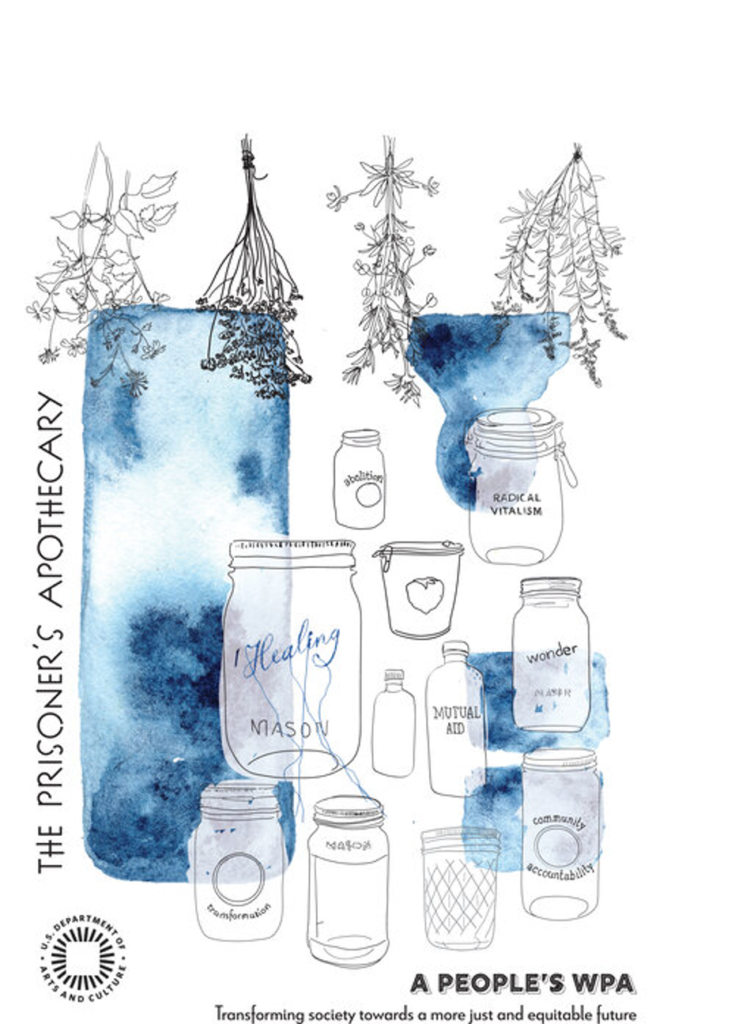 THE PRISONER'S APOTHECARY
(New Orleans, LA)
"Creative micro-experiences of abolition can help us imagine a landscape without prisons."
jackie sumell's Solitary Gardens is a collaboration with incarcerated individuals who help provide the design for garden plots that are the size of a prison cell. Her project, The Prisoner's Apothecary grows plant medicine in collaboration with incarcerated individuals and distributes it to affected communities nationally. Both projects have a wide reach and require knowledge on a diversity of subjects from navigating the prison system to small business development, construction and gardening. The project makes a larger vision of abolition tangible by providing a place where stigmatized individuals are offered an alternative. Additionally, the projects each train and hire an entire ecosystem of collaborators within their communities.
Solitary Gardens and The Prisoner's Apothecary provide a vision of how to address not only the need to liberate ourselves from the Prison Industrial Complex, but to heal the harms that it has wreaked in our communities. Additionally, they provide an example of how a government jobs program might recruit and train people with complementary skills in an effort to help the artist focus on the creative aspects of their work, scale up and realize their full vision.
ARTWORK BY LISA SOLOMON:  Lisa Solomon received her BA in art practice from UC Berkeley, her MFA from Mills College, and has been a professor in the Bay Area for over 18 years. She is profoundly interested in bridging the gaps between being creative, living creatively, and making a living as a creative.
SIPP CULTURE
(Unica, MS)
"Community Centers built by and for community members can build self-determination and strengthen the cultural and political fabric of an entire region."
Brandi Turner and her husband Carlton began The Mississippi Center for Cultural Production (SIPP Culture) with a vision for a school in their hometown of Utica, MS, where art and culture were embedded in the very fabric of learning. Through deep inquiry and an extensive community asset mapping process, they founded a place of learning and exchange; a place where food, culture and storytelling are central to building self-determination and growing community.
Sipp Culture's programs are run on a 17 acre green space operated by people from the surrounding community. The Rural Performance Production Lab supports Southern artists in telling southern stories, and their Digi Culture Lab supports youth in digital art making and storytelling. In a moment where disinvestment in both rural communities and communities of color has devastated many of the places people call home, Sipp Culture is an example of how investment in cultural centers built for and by community can strengthen entire regions through offering education, job opportunities and places for people to gather.
​​ARTWORK BY ALEXANDRA JIMENEZ:  Arizona native Alexandra Jimenez is an artist and researcher. Her artistic practice explores her connection to land, culture, and history as a fourth generation Mexican-American. She uses her training in the sciences to add layers of meaning to her work and to invite the viewer to discover something new..
Going Further: