As a continuation of our spotlight on the People's WPA by the US Department of Arts & Culture, the following are two stories of artists working within their communities to foster transformation toward a more caring, nourished, just and collaborative future: The Turn the Page Movement in Newark, NJ and the national Auntie Sewing Squad.
TURN THE PAGE MOVEMENT
(Newark, NJ)
Uplifting Black literature and Black-owned bookstores can create popular consciousness around radical histories. Inspired by the sudden influx of white readership around anti-racist literature provoked by the Black Lives Matter movement, Turn The Page Movement (TTP) sought to provide content by writers of color that could also support Black owned businesses. The Queer, Black + Latinx-led collective of theatre/ multimedia artists shares a diversity of goals, from advocating for policies to seed, nurture, and facilitate a Black literature curriculum within public schools, to developing Black literature collections for book stores, curating events and conversations around Black texts, and raising money for their community partners' literacy programs.
TTP see themselves working separately from the corporate capitalist business model, and instead put their attention on solidarity economies and coalition building. Their work includes a myriad of benefits, from distributing wealth to Black communities, supporting more diverse curriculums in schools, and ensuring the financial survival of BIPOC entrepreneurs, showing how supporting one collective can have a much wider impact.
ARTWORK BY WILLIAM ESTRADA: William Estrada is an arts educator and multidisciplinary artist. His current research is focused on developing community based and culturally relevant projects that center power structures of race, economy, and cultural access in contested spaces that provide a space to collectively imagine just futures.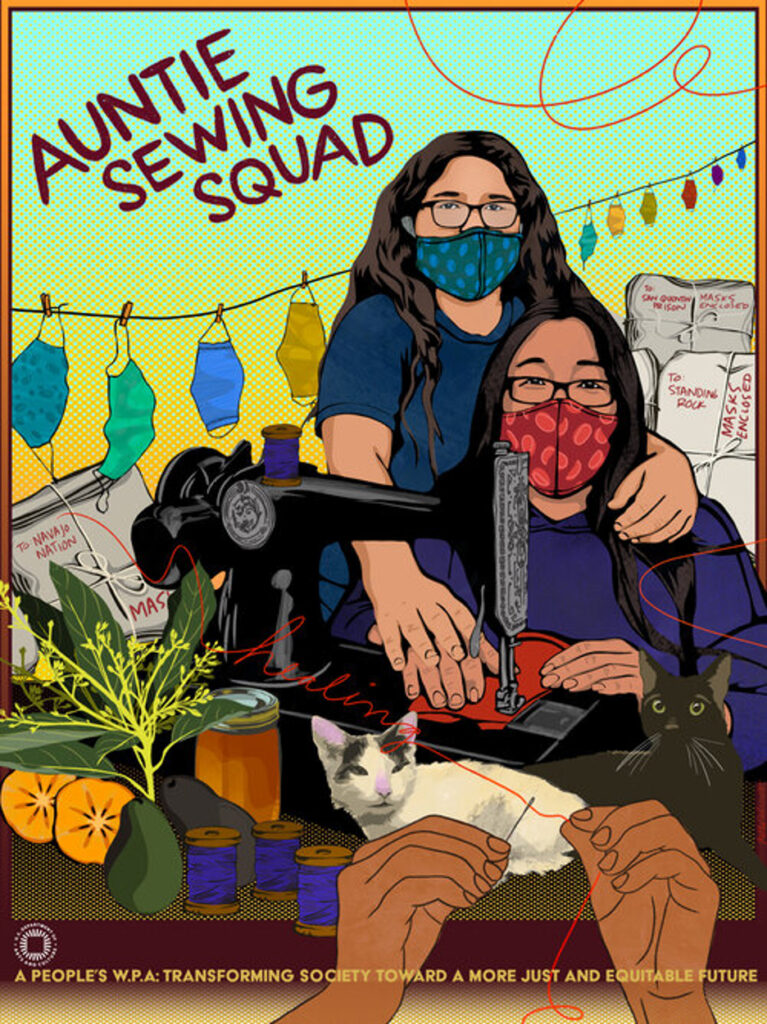 AUNTIE SEWING SQUAD
(National)
When the global pandemic hit, comedian Kristina Wong found herself out of a job and eager to offer assistance. It was clear that "soldiers weren't going to save us, but old ladies with sewing machines" might. The Auntie Sewing Squad formed overnight with a focus on providing masks for communities that were hardest hit by COVID-19. As their mutual aid work grew, the group diversified their offerings to include clothing and food essentials, each step of the way responding to unmet community needs with care, intention and creativity.
As social and economic crises emerge across the country there will be an unprecedented need for mutual aid efforts. Rather than a top-down hierarchical model, it would be wise for local, state and national governments to take the lead for disaster recovery from on the ground mutual aid efforts that directly resource communities through a decentralized production and distribution
of goods. Likewise, offering administrative infrastructure such as accounting, management and distribution can support small, local campaigns that are able to respond quickly and appropriately in times of disaster.
​​ARTWORK BY KATE DECICCIO: Kate DeCiccio is an Oakland based artist, educator & creative strategist. Her work centers portraiture for counter narrative, community storytelling & cultural strategy on behalf of abolition and collective liberation.
Going Further: