Here's something you don't usually hear when entering a hardware store: "We've got some pie over there, help yourself."
That's exacy what I heard when I stepped into the Waitsburg Hardware & Mercantile in Waitsburg, WA.  And there was pie indeed.  It was blueberry rhubarb and it was delicious.  There was also coffee to go along with it.  I happened to stumble into the hardware store on what is known to the locals as "pie day," which is not so much a set day of the week, but occurs whenever someone from the community decides to bring in pie for anyone who might stop by to enjoy.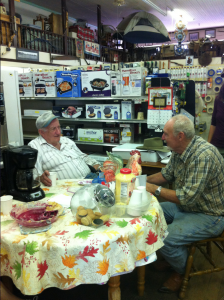 "We have some very good pie and cake makers, and sometimes we have biscuits and gravy; we have all kinds of food in here," said John Stellwagen.  He and his wife, Marilyn, own the place since they bought the business in 2005, and it was then that it became a center where people come together.  "People want to fix something, they bring it in.  We have people that make smoked cheeses and bring them in and sometimes we barbeque, so it just gets you through the day." According to the Web site the hardware store is "A place where the community gathers to pass the time of day and catch up on the local news."
I spent about a half hour in the store and in that time saw at least 10 people come in, sit down, eat some pie and chat.  Many people seemed to know each other, but I also overheard introductions being made.  Stellwagen told me it all started one fall when Waitsburg Hardware decided to hold an apple pie baking contest.  Members of the community brought in their finest but the result was a draw, everyone coming in first place.  A run-off was planned, a second round of pie eating ensued and "pie day" was born.
"We had all these people bringing in these pies and we could never quite make up our mind, so we had to have another run-off, but really it was just a huge excuse to have pie. We never did choose anyone, but we had a pie a day for weeks," explained Stellwagen.
"Sometimes people stop in two or three times a day," a patron who was working on his second piece of the blueberry rhubarb treat told me.
The pie and coffee wasn't the only evidence I saw that this store serves as much more than a place to buy nails and a hammer.  Marilyn Stellwagen also runs the Black Dog Rescue Program, which finds homes for abandoned cats and dogs, placing around 250 needy animals in the past two years.  And locals have a place to strut their stuff on a community bulletin board, displaying pictures of area members and the fish they have caught, complete with labels showing names and sizes.
I had just gone in to buy some batteries, but I left with a lot more; a sense that community can form wherever there is pie and a welcoming population.  Before I walked out the door, Stellwagen told me to come back sometime soon, and I will.  I hope I happen upon biscuits and gravy day, but for now, I know where I can find some pie; sitting right next to the screwdrivers, just how I like it.
Would these type of events work in a larger town or a metropolis, or is this something that can only be utilized by smaller hamlets? Do you know of more unique tactics to get the community involved? We would love to hear about it.