In Boston, communities of color are taking charge of their own economy in homegrown, innovative ways.
After fighting to thrive despite generations of disinvestment, racist lending, banking and harmful development practices targeting their neighborhoods, individuals from across Boston are finding an opportunity through the Ujima Boston Project to imagine and build "a people's economy" — an economy in which they and their neighbors are the primary decision-makers, investors, collaborators and beneficiaries.
The word "Ujima" is Swahili for "collective work and responsibility." Founded in 2015, the community-led organization focuses on concrete, tangible projects and outcomes. It involves people from all walks of life as equals within its complex ecosystem of creative exchange and productivity. Co-Founder Nia Evans describes its success, "We believe that the 'heart learns what the hands do,' and overcoming our well-worn skepticism required us to show, not just tell that change was possible." (Forbes)
In 2016, Ujima raised $20,000 in three days from 175 people, then Ujima hosted their Solidarity Summit "as a collective proof of concept." Evans recounts, "Over 150 community lenders came together to hear pitches from five Black and immigrant business owners and vote on which ones should receive funding. While the loan sizes were nominal, the three-day experiment resulted in a wave of enthusiasm that has carried us to our Fund launch over two years later. We would encourage other communities to also consider what pilot actions they can take — to not only assess feasibility but also to build community trust." (Forbes)
In the video, participant Lisa Owens, Ujima member and director of local grassroots organization Lisa Owens (City Life / Vida Urbana), explains the vision behind the work: "Ujima is trying to create something new. A grand community dream and experiment that helps us answer the question, 'What would a people's economy look like – if we designed it and created it and nurtured it ourselves."
Young entrepreneur and organizer Noah Hicks of Bowdoin Bike School adds, "Like many people, particularly black people from the inner city, I was not thrilled about the prospect of engaging with traditional banking and traditional lending so I did not do it. Finding out about the efforts of community members like me to leverage pooled lending sources to take a bit of the fear and anxiety and the anxiety and hesitance away from lending period and actually engage people of color with good ideas and get money into their pockets in a way that's palatable and that we can actually get with — I was SO on board."
Ujima's is designed as multifaceted "ecosystem" in order to most effectively pool, build upon and grow the resources and decision-making power of a vast array of diverse stakeholders from across Boston including include workers, grassroots activists, small business owners, unions, faith and civic organizations, community members and impact investors.
It is these individuals who serve as equal members of the capital fund's governing body. Resources are pooled in a community-controlled capital fund, over which investors each receive one vote to decide where funds will be invested and practice and principles to be upheld (such as paying a living wage.) Decision-making takes place on both the neighborhood and city level through neighborhood and city assemblies.
The other elements of Ujima's robust ecology include:
An alliance with business partners who provide technical assistance, cooperative purchasing and other joint ventures to strengthen operations and market share
A Good Businesses Directory that highlights healthy business practices while growing customer support and loyalty
A Worker Services Network offering human resource offerings like an internal staffing agency and workplace mediation services to grow employee satisfaction and workplace security
An internal electronic currency offering members rewards
A Time Bank allowing individuals to trade their skills and services with other members in an hour-to-hour exchange
Organizing at the city, region and state level to flow investment, subsidy and procurement dollars to their network while influencing divestment from extractive industries like prisons and fossil fuels.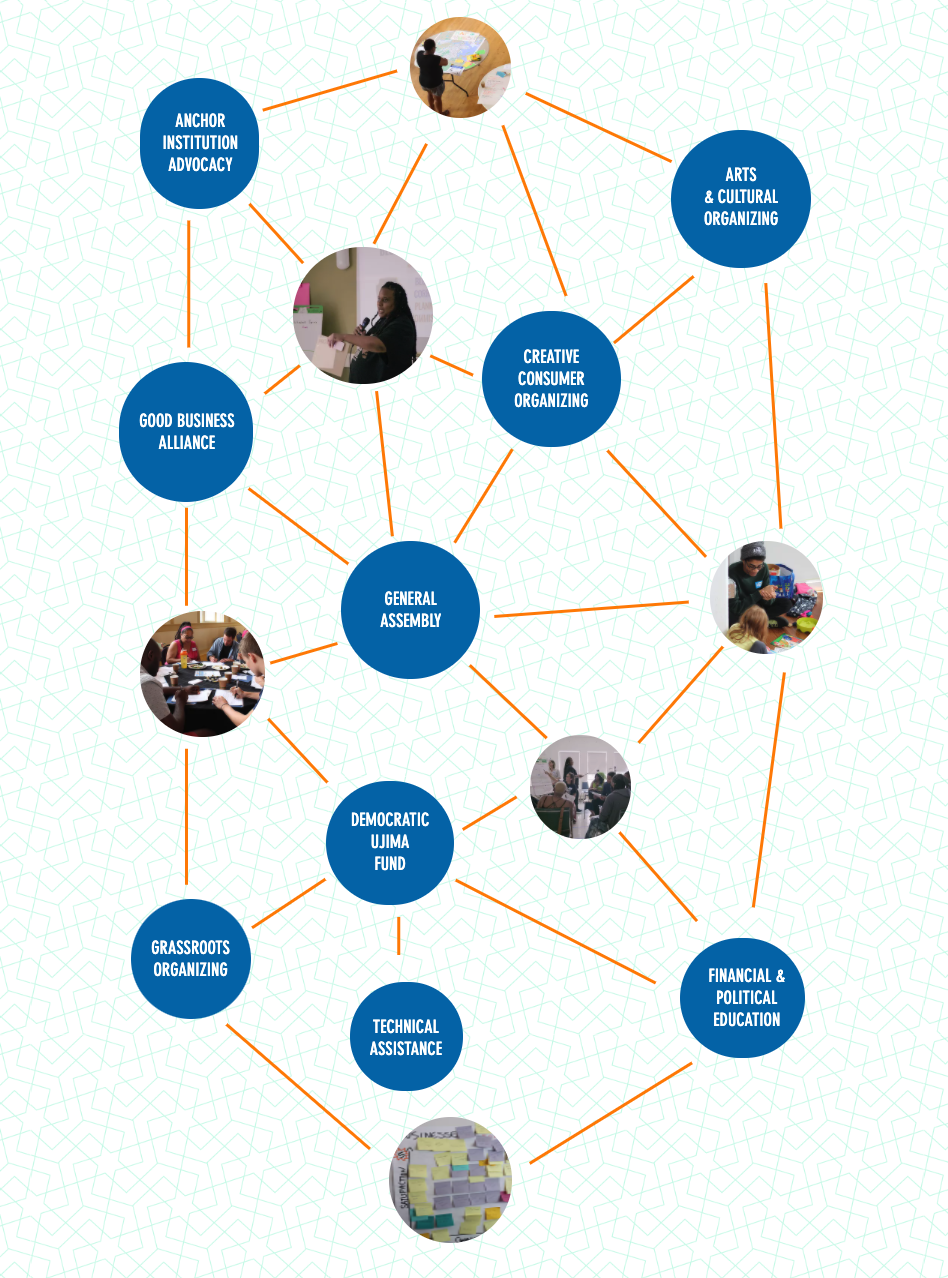 Ujima's success lies in its focus on mobilizing the existing and emerging enterprises, resources and ideas of real people into concrete ventures and opportunities for collective support, all within a structure that offers members the chance to exercise their own power as central contributors and decision-makers.
"Today when members and supporters reflect on what draws them to Ujima, a term that is often used is 'action-oriented,'" says Founder Nia Evans reflects. "In a time when many of us can feel like problems are too big or complex, a paralysis of powerlessness can take hold. To actually try something bold, transparently learn and iterate together, can change that." (Forbes)
Going Further