1. Backyard bounty
In the Westwood neighborhood of Denver, Re:farm Denver is growing a cooperative food economy from the backyard out. Re:farm supplies families with everything they need for backyard gardens, from irrigation systems to seeds. The program has grown rapidly, from seven families in 2009 to more than 200 this year. Ninety percent of participating families live on less than $15,000 annually; for most, the food they grow is food they wouldn't otherwise be able to afford. Re:farm co-founder Eric Kornacki attributes the program's growth to its promotora model, with former participants training new backyard farmers. This model cultivates future community leaders and provides local jobs in the process. Families may join the new Westwood Food Cooperative to sell excess produce and share in any profits. Above, David de Santiago, his wife Irma Lopez, and two of their children stand proudly with the day's harvest in their household garden.
2. Extra income
Cottage food laws allow artisans to sell breads, jams, candy, and other foods made in their home kitchens. Without these laws, the cost of renting a commercial kitchen can be prohibitive for many small-scale food entrepreneurs. While specific restrictions on the condition of home kitchens and allowed annual earnings vary from state to state, there are currently 42 states with at least some type of cottage law. Beth-Ann Betz makes sweets with a Middle Eastern twist in her New Hampshire kitchen, and sells them at a farmers market and a local food co-op. Customers love her pistachio ma'amoul, flaky rugelach, and juicy plum torte, she says, and income from the business provides a nice supplement to her Social Security. "It gives me the option to be independent and self-employed at 66."
3. Edible investment
Small food businesses don't often find eager investors on Wall Street. Just ask Tony Ferrari and Jonathon Sutton, chef-owners of San Francisco's Hillside Supper Club. When they needed money to turn their popular pop-up restaurant into a permanent neighborhood business, they didn't find it at a bank. They turned their loyal customers into investors using a service called Credibles. It's a bit like Kickstarter for food businesses, but instead of token rewards, Credibles provides full return of money invested. Within weeks of their Credibles campaign, Ferrari and Sutton had more than 40 customers with prepaid balances of up to $400 – enough to open a permanent location. The concept is simple: Customers prepay for food and receive edible credits to use like a gift card. Large prepayments can even earn edible interest like a garlic basket or more food at a restaurant. In the meantime, food businesses get the money they need to survive and grow.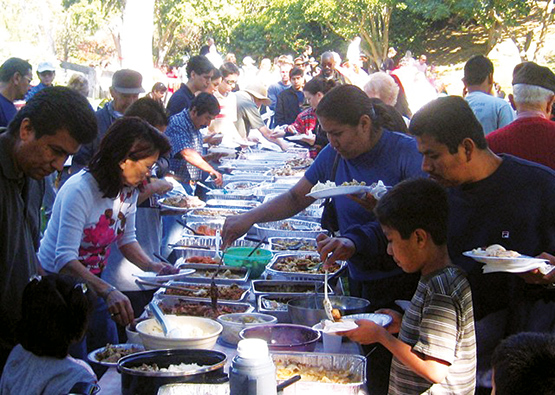 4. Ultimate potluck
At the Community Thanksgiving Potluck in Laguna Beach, Calif., dinner isn't served – it's shared. For more than 25 years, Laguna Beach community members – folks with homes and folks without, single people, families, city council members, and the jobless – have gathered to share food and community on Thanksgiving Day. "It's a wonderful chaos," says Friendship Shelter Executive Director Dawn Price. "We make sure everybody has a place to sit, a fork, and a napkin. The Neighborhood Congregational Church provides a space. The rest always seems to work out, and the dinner will be what it needs to be each year." It was a small gathering until 1993, when it provided food and community to people displaced by a devastating fire. Since then, the event has grown, drawing hundreds each year. "This is my favorite day of the year in Laguna Beach," says Price. "People from all walks of life gather to celebrate our community."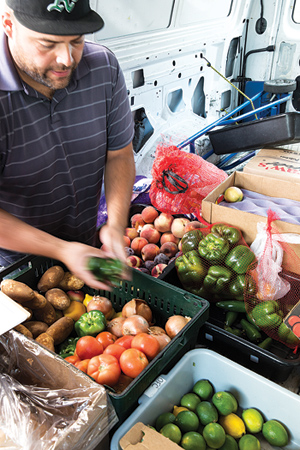 5. Desert deliveries
For the residents of West Oakland, potato chips and cheap beer are far more accessible than fresh fruits and vegetables. The neighborhood has 48 liquor shops but just one full-service grocery store. More than 23 million Americans don't have access to fresh, healthy, and affordable food. They live in food deserts like West Oakland, where the available food is mostly prepackaged, frozen, or fast. A new partnership in West Oakland is changing that landscape one liquor store at a time. At Bottles Liquor, a banner reading "Fresh Fruits and Vegetables Available Here" hangs next to neon beer signs and glass liquor cases. Bottles is a member of the Healthy Neighborhood Store Alliance (HNSA), an effort of the Mandela Marketplace to bring pesticide-free produce to corner stores throughout the neighborhood. The pesticide-free produce comes from small, minority-owned farms within 200 miles of Oakland. Right, Erick Sanchez delivers chard, potatoes, apples–whatever's in season–to Bottles and four other HNSA stores.
6. Taste of the past
Michael Rakowitz makes art that feeds people. In May, Rakowitz opened a pop-up restaurant that served Iraqi-Jewish food publicly in the Middle East for the first time in nearly 70 years. Over the seven nights of Dar Al Sulh's tenure in Dubai, a sign outside the restaurant read, "Cuisine from an Absent Tribe." Inside, food was served on metal plates used in Iraqi synagogues and smuggled out of the country in the 1940s. Dar Al Sulh, or "domain of conciliation," references a time when all faiths received a measure of religious protection in most of the Middle East. Today, few Jews remain in the Middle East outside of Israel. Rakowitz, himself of Iraqi Jewish descent, says that the restaurant helped reanimate an endangered culture by recreating its food. "Teaching and sharing Iraqi cooking is a way of making Iraqi culture visible beyond the green-tinted CNN imagery of buildings being blown up," says Rakowitz. "Food provides this moment of elemental engagement that brings people together. We all stop, sit down, and break bread."
Shannan Stoll wrote this article for How to Eat Like Our Lives Depend On It, the Winter 2014 issue of YES! Shannan is a freelance writer. Text and images used by permission of YES! magazine. Photos (from top): [1] Jess Elysse; [2] Alison Hancock/Shutterstock; [3] Paul Dunn for YES! Magazine; [4] Dar al Sulh Project. Home page photo: OliBac.