Westwood Works is more of an evolving discussion rather than a movement.  Perhaps it is better understood as a way of looking at things as opposed to a "civic group."
It started as a gathering of citizens in the Westwood neighborhood of Cincinnati who wanted to focus on what is right about their community and build on the assets of the largest neighborhood in the city. They began by supporting a local artist who was applying to have a mural painted in the neighborhood and needed support.  So this original group of committed folks stepped in and endorsed the application and now a beautiful mural exists on Harrison Avenue in the heart of Westwood on the side of the Henke Winery building.
Henke Winery building mural detail
The group kept finding more and more people who were just as passionate as them and they hosted events such as Up For Grabs, a free neighborhood yard sale.  They continued meeting and founded Westwood Works.  It is not your typical community or neighborhood association. "We get together once a month but it's more of a conversation," John Eby states. "People come to us with ideas, things that they would like to do or see in the neighborhood. We'll help you get it started. A woman came because she wanted to find others to walk with, so Westwood Walks began. It is a group that meets each Saturday morning at Town Hall and walks. Joe Binder was inspired and took it over. It was his passion. Now they take a different route each Saturday and highlightsomething interesting or historical about Westwood."

Westwood Works at the 2011 Harvest Home Parade
The thinking behind Westwood Walks morphed into Treasure Qwest, an Amazing Race type event through the streets of Westwood and Cheviot.  Recently 18 teams of four "raced" through the area completing fun mental and physical challenges at many local establishments along the way. The event is designed to show off many of the wonderful streets, businesses, groups, history and people that make their neighborhood great.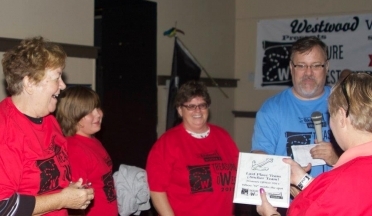 John Eby presenting awards at Treasure Qwest
Just like the race, Eby thinks people appreciate and engage in Westwood Works for many reasons: "We are less formal and try to be extremely welcoming. We are open to anything, any idea that someone is passionate about. I think there is power in that. Everyone here has so many gifts, I have been amazed. I have also learned that people want to engage about what they care about and then they
may 'disappear' for a while. That's okay. We will continue to build on our assets and see where we go."
Check Westwood Works out on Facebook and you're warmly invited to drop by on last Tuesday of month at 7:30, usually at Maury's Tiny Cove.
For more information contact Joe Erpenbeck ABCD Cincinnati 513 / 910-1259