The Common Good podcast is a conversation about the significance of place, eliminating economic isolation and the structure of belonging.
This episode features the Abundant Community Conversation in November, 2022 in which Peter Block spoke with Jenn Hoos Rothberg, the Executive Director of the Einhorn Collaborative, about "A Call to Connection." Abundant Community conversations happen every couple of months on Zoom and they always contain poetry, small groups and an exploration of a particular theme.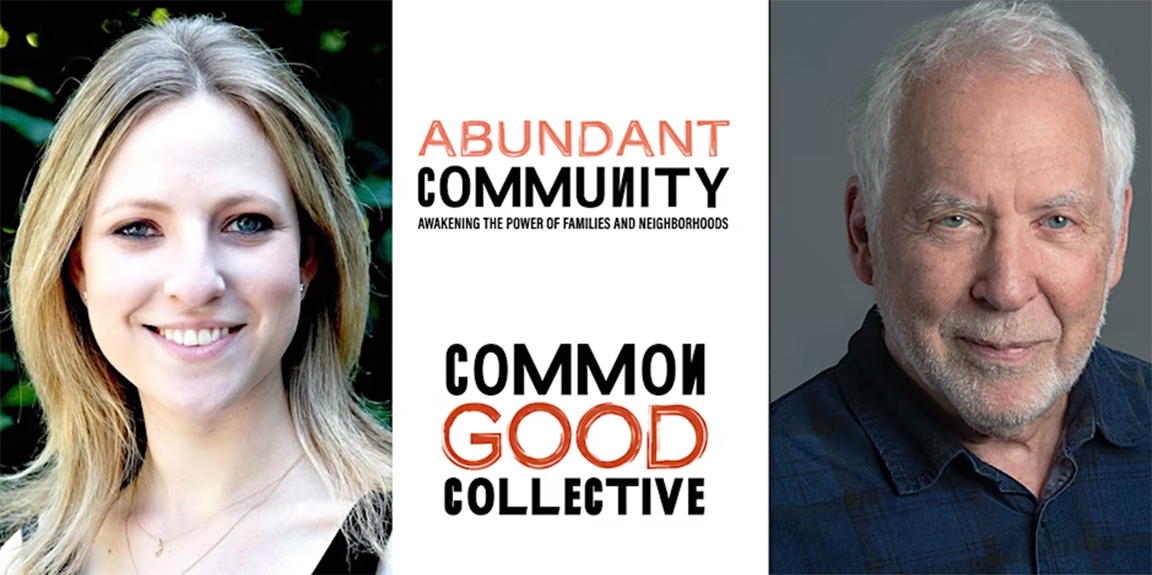 Jennifer Hoos Rothberg leads Einhorn Collaborative, a nonprofit foundation dedicated to addressing America's growing crisis of connection by advancing the science and practice of empathy, mutual understanding, and relationship building in the United States. Jenn, who joined in 2007, oversees all aspects of the foundation in partnership with its Founder and Trustee, David Einhorn, including setting strategic priorities and building collaborative partnerships that advance our ability to embrace our differences, see our common humanity, and solve our country's biggest challenges together.
Jenn is a member of the Leap of Reason Ambassadors Community, the Town School Board of Trustees, and the NationSwell Council. She received her Master's in Regional Planning and Bachelor's in Urban and Regional Studies with Honors from Cornell University. She lives in NYC with her husband, two children, and cockapoo, Zucca. You can follow Jenn on LinkedIn and Twitter.
In addition to being the Communications Lead at Einhorn Collaborative, Chi Nguyễn is an interdisciplinary artist who uses textiles and community-engaged practices to examine the intersection of identities in the U.S., explore the concept of belonging, and reflect on her recent transition to motherhood. Her work has been featured in the New York Times, Vogue, Washington Post, Salon, Ms. Magazine, Huffington Post, BusinessWeek, Vice, and Bustle, among others. She is based in The Bronx, New York where she lives with her husband, daughter, and their dog, Uni.
Here is the recited poem, "Turning to One Another" by Margaret Wheatley:
There is no power greater than a community discovering what it cares about.
Ask "What's possible?" not "What's wrong?" Keep asking.
Notice what you care about.
Assume that many others share your dreams.
Be brave enough to start a conversation that matters.
Talk to people you know.
Talk to people you don't know.
Talk to people you never talk to.
Be intrigued by the differences you hear.
Expect to be surprised.
Treasure curiosity more than certainty.
Invite in everybody who cares to work on what's possible.
Acknowledge that everyone is an expert about something.
Know that creative solutions come from new connections.
Remember, you don't fear people whose story you know.
Real listening always brings people closer together.
Trust that meaningful conversations can change your world.
Rely on human goodness.
Stay together.
This episode was produced by Joey Taylor and the music is from Jeff Gorman. You can find more information about the Common Good Collective here. Common Good Podcast is a production of Bespoken Live & Common Change – Eliminating Personal Economic Isolation.
Going Further: