Just had a knock at the door — it was Mia. She stopped by to tell me about the brilliant plan that she and fellow neighborkid Talia have hatched. (Mia is incredibly modest — "brilliant" is my word for the plan.)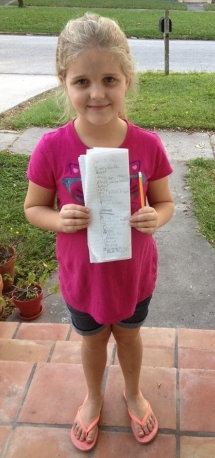 Today kids at Gocio Elementary found out who got a part in this year's play, which will be Willy Wonka. As Mia said, "lots of kids were sad" to find out they did not get a part. So Mia and Talia decided to organize all of the other kids who want to be in the play, to put on their own version.
Talia snagged a copy of the script from her older sister to figure out how many parts there are in the play. Their rule is that any kids can be in the play, even if they "have a record," so long as they want to act and sing. "Even kindergarteners," who were not allowed to audition for the school play.
And each kid gets to decide together with co-producers Mia and Talia which part suits them best, instead of simply being assigned a role.
So far, 21 kids have signed up to be in the alternative production. They are already strategizing about how to make costumes too. Doesn't this sound like a kids' version of the The Sarasota Fringe Film Festival?! These kids are truly phenomenal….
Re-posted by permission of the Sarasota Community Studio. Photo by Alison Pinto.