The road to revolution begins with a walk through the neighbourhood.
That's what's sparking for Mike Butler and Dan Benavidez as what they call "the Belonging Revolution" unfolds in their community of Longmont, Colorado.
Since last July, Mike and Dan have been strolling through the city's neighbourhoods one by one intent on understanding the depth of belonging that residents feel for the community. Through the ensuing one-on-one conversations, meaningful relationships are being forged in the hundreds that Mike believes will lead to transforming the isolation and self-interest that seems to prevail in community into a caring and connectedness for the whole.
"There's nothing more powerful than an idea whose time has come," Mike says.


"And it's the belonging piece that is so powerful.
"It's about bringing life to people who believe that they belong to something bigger."
Mike, who is Longmont's public safety chief and heads the police and fire departments, was instrumental in establishing a restorative justice process in the city nearly 20 years ago. It has become a widely embraced, effective and sustainable alternative to the criminal justice system for all kinds of offences, and restorative practices have rippled out to schools and other areas of the community to resolve conflict.
Mike's continuous search for innovative pathways to restorative community has now birthed the Belonging Revolution in Longmont, a city of approximately 90,000 that is among Colorado's poorest.
The belonging concept and restorative practice are closely tied, with relationships, respect and responsibility among central elements that can help to shape and grow a strong social fabric.
"The forces that are at play — a (spiritual) circuitry, a bonding, a sense of desire to connect — are all alive and well. It's just a question of what . . . mechanisms, what strategies are you going to use to try to bring it together," Mike says.
The neighbourhood walks reveal a far-reaching hunger for belonging and deeper connection — and it transcends colour, race, faith, economic status, and positon of power.
"For the most part in this country, many communities have a lot of disconnection, isolation, anonymity and silo effect going on," Mike says. "School districts, governments, business do their things and there's not a lot of thread or tie-in or sense of how these things all get connected and can start working together.
"And when we get into neighbourhoods themselves, you begin to see where there are folks struggling with homelessness, addiction, mental illness," he says, adding these people and others such as people returning from prison are marginalized and "cast into the shadows."
Recent events in the U.S. involving police and other chronic social issues add to the sense that now is the time for the Belonging Revolution.
Mike and Dan, who is an international business consultant and serves Longmont in many capacities, wonder what could happen if a robust, shared sense of belonging could be developed in the community.
"Belonging has two dimensions: one is relational, I belong to the community; and the other is a sense of ownership, this community belongs to me," Mike says. "If you can imagine a community where you could get the vast majority of people to feel like they belong to this community and this community belongs to them, what kind of dynamic would you produce?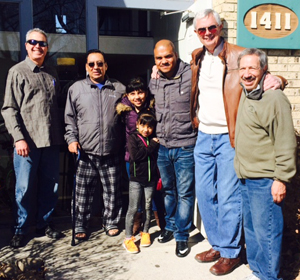 "You'd see impact in just about every aspect and arena that a community has, whether it's the arena of public safety, education, of being good parents or good neighbours or strengthening that social, human and community capital in a way that could just take a community into an entirely different stratosphere of how it sees itself," Mike says.
In their walks, which began in the poorest, predominantly Spanish-speaking neighbourhoods of Longmont and at times have involved others like the city's police commander, Mike and Dan ask residents about their belief in their community and belonging to it as well as questions around safety, knowing their neighbours and opportunities to interact more fully with the community.
But they also talk about something else. "Walking in these neighbourhoods mostly on good weather days when people are out, we introduce ourselves, engage people in conversation and let them know that they're appreciated and valued, that their voice counts and they belong to something bigger — this community," says Mike, who also offers his card and asks them to call him with their concerns.
The walks continue — Mike and Dan strive to complete one a week and they intend to visit every neighbourhood in Longmont. Mike has also engaged in conversations with hundreds of people in the public safety realm as well as service clubs, business and church leaders, schools and other areas of city government. He's given a presentation on the Belonging Revolution to Colorado's police chiefs and other cities are interested in learning about it.
Mike and Dan have yet to encounter anyone unwilling to be part of this dialogue.
"It's amazing how much this resonates with people," Mike says.
In the neighbourhoods, Mike and Dan have been moved by the kinship they've experienced, receiving food and invitations into people's homes, and meeting families and other neighbours. Tears and laughter have often surfaced as stories of plight and pain are shared — as well as hopes and dreams.
Mike and Dan find people who are already living the Belonging Revolution. At a small church in one of Longmont's densely populated neighbourhoods, they met the pastor, his wife and their congregation who have many dreams for the city they love and are committed to helping their community. For instance, they host picnics, ball games and nighttime activities to engage youth.
These parishioners were among many people who said they were willing to help more in their neighbourhood, Dan writes in his observations of that walk.
"We all left feeling and believing we encouraged many people to feel and believe they belonged," he writes. "People seemed genuinely appreciative that we were in their neighborhood. We also talked to a number of people who only spoke Spanish and they also expressed gratitude and were all very happy to be living in Longmont.
"Meeting and developing relationships that can last forever with people we do not know is truly creating a restorative community. It is matchless in its power to build enduring social fabric."
This is a snapshot of what is emerging in the Belonging Revolution — an abundance of kindness and goodness and a willingness to care for the good of the whole.
"When we leave these neighbourhoods, people sense that they are going to start doing something in their neighbourhood a little bit differently, they're going to start paying attention," Mike says. "They say, 'These people are my neighbours, I belong to this community, I want to make a difference.' That's what the vast majority of our connections and contacts have been like."
The Belonging Revolution centres on the concept of belonging and "how, if we could begin to engender and develop this sense of belonging in our community, this would begin to be a community that works for all."
Mike says the community has the capacity and resources to shape its future and "we have to believe that tomorrow can be different as a result of the gathering we have today."
Like any revolution, this will take time. "We have not put a lot of structure or organization around it because it really is a heart thing," Mike says.
"It has more to do with how we feel, with connection and relationship between two hearts, two souls, two minds, than it does anything else."
That's not to say mechanisms and structures aren't important, but the Belonging Revolution starts with being "heart to heart, person to person, face to face, and sensing that we have things in common," Mike says. "We want something that's between us that didn't exist before."
Story images courtesy Axiom News. From top: [1] Mike Butler and Dan Benavidez get to know members of a neighbourhood during one of their walks for the Belonging Revolution that's underway in Longmont, Colorado. [2] The pastor and his wife, parishioners and musicians of Centro Cristiano Vida Abundante church in Longmont, Colorado, welcome the city's public safety chief, police commander and others during the small group's walk in their neighbourhood March 8. Heart-felt conversations explored the congregation's love of the community and desire to be part of a solution for a thriving, resilient community. [3] The neighbourhood walks have fostered deeper community connections. Home page image Zuerichs Strassen. Home page image: Kalexanderson
Reposted with permission from Axiom News. You can comment on this story below or at Axiom News, or e-mail the author at lisa(at)axiomnews.com