Priscilla Corcoran Mooney was just 30 years old when she became her town's mayor. A community of approximately 250 people on the Cape Shore of Newfoundland, Canada, the Town of Branch knows how to focus on their assets and use their strong connections to one another to make the place a model of civic engagement.
Though Branch has not experienced the massive population loss as other small rural communities, Priscilla and her neighbors got tired of hearing from outsiders how rural Newfoundland is dying. On the other hand, she says, it was that "poor little things" attitude that got the people of her town to look into ways to buck the trend. "In a way it is good for people to come in and say you are a dying community, because it gets us riled up," she says.

In addition to serving as mayor Priscilla co-founded a number of organizations to improve quality of life for all ages in her community, including The Singing Kitchen, a community kitchen where seniors and others are encouraged to come enjoy each other's company and eat a nutritious meal.
But it was a poster she developed with the Branch town council that spread the word about Branch far and wide. The "Top 21 Reasons to Live in Branch" inspired a national CBC radio interview which in turn produced a dozen or so inquiries from people interested in moving to the town. That may not sound like a big number but for a community the size of Branch it's a significant response, and one that surprised them all. "Some of those enquiries were from people who had never heard of Branch before," Priscilla told The Charter, "and some from people looking to retire there as well as from those with a connection to the Cape Shore community. They were looking for not only a nice little quiet, quaint village, they would say, but looking for a place that would allow them to feel involved."
 Top 21 Reasons to Live in Branch
Magnificent scenery  •  Low tax rates (water, poll, business)  •  Dynamic volunteer opportunities (eight effective community groups)  •  The Singing Kitchen  •  Low crime rate  •  Proximity to health care providers (St. Bride's, Placentia)  • Opportunities for business development  •   Wellness approach to living  •   Excellent schools: Fatima Academy  •   Recreation opportunities: aerobics, cards, homework program  •   Eligible bachelors  •   The sea at your door  •   Warmth and friendliness • The Wester' Cove  •   Artesian well-water system (coming soon!)  •   Fresh fish  •   Close to magical Cape St.Mary's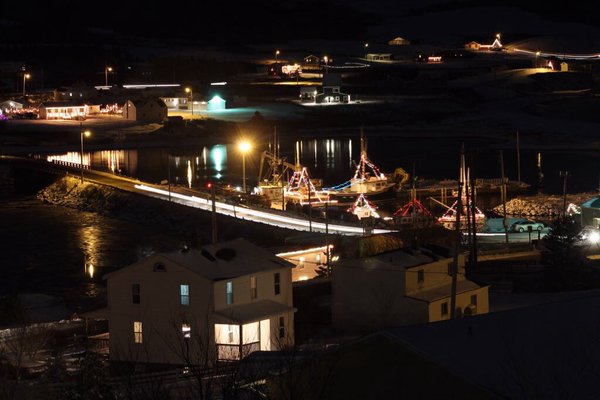 Branch harbor
Related:
Acknowledgments and sources: Text—Civic Engagement, Belonging and Leadership: The Town of Branch; Bringing People Back to Branch, by Elizabeth MacDonald, The Charter. Photos (from top)—John McKnight; Town of Branch; Chris Mooney.